Unencumbered X Romantic Ballerina
2 year old Chestnut Filly
Sire: Unencumbered Dam: Romantic Ballerina
**UPDATE: This filly started her breaking in preparation which is very exciting. I don't get a chance to break many of our babies in these days but have personally done all the early base work with this filly which has given more a good feel of her. She has really impressed me mostly with her excellent movement and good head carriage which I like to see in a young horse. I think she will be a lovely filly in time.
Some fillies grow on you and keep growing on you and its fair to say that the UNENCUMBERED x ROMANTIC BALLERINA filly has done just that.
When I first saw this filly at the Melbourne Premier Sale, I saw a tall leggy filly that was still a little raw and new.
Wind the clock forward 4 months, and we have a stunning filly on our hands. She has strengthened, filled out and is putting her hand up as the No 1 yearling in the stable. She has gone to a new level during her breaking in preparation and is just a magnificent looking girl now. Tall, athletic and just a seriously good specimen.
For those owners, looking for a later 2yo filly that will develop further into her 3yo season, this is your girl.
Whether her sire UNENCUMBERED makes the grade as a stallion remains to be seen. However, he is as good a chance as any young stallion making a name for himself. He was a Magic Millions winner, a gun 2yo and those stallions generally make the grade here in Australia.
This filly is a half sister to BACKSTREET LOVER who we race in the stable. Backstreet Lover is a heavier set type of mare that was a very promising 3yo winning in town and running in stakes races. Her younger sister has a touch more quality about her, a touch more athletic and lighter on her feet.
She was purchased for $35,000 + GST. She is by far the best value yearling on our books and I think in time, she will win her price tag back many times over.
We have a few shares left so don't snooze!
STALLION VIDEO - http://www.threebridges.com.au/stallions/unencumbe...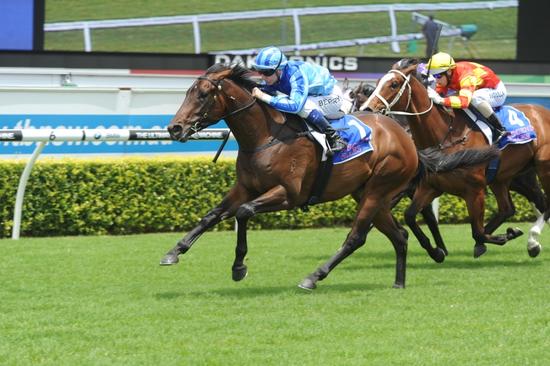 This filly was the only Super Vobis yearling which I have bought this year so she will be running for all the Super Vobis and Vobis Gold bonuses on offer which is a huge plus.