JWR WEEKEND PREVEW: DAY 1 OF THE CHAMPIONSHIPS
Apr 01, 2016
Day 1 of The Championships kicks off at Randwick tomorrow and JWR will be represented by Zabeel filly ZASORCEESS in the Group 2 Adrian Knox Stakes.
"After an excellent first up run over 1300m when she charged home late, she has been a little dour at her past two starts over 1600m. The step up to 2000m looks ideal and I will be disappointed if she is not motoring home late""
Above: Zasorceress glistening in the Sydney sun
"She has been stabled at Randwick for the past 3 weeks preparing for this race and her preparation has been spot on. On paper, her form doesn't look strong enough but I've always thought she was up to this class and I think she will surprise a few people".
"Most of these Zabeel fillies only get warm when they reach 2000m and I think she is ready to show something. She needs to go well tomorrow to qualify for next week's AJC Oaks so fingers crossed, she runs a blinder".
"Sydney has been good to us over recent years with Bel Sprinter and The Barristerwinning group races. It's now up to Zasorceress and Puritan (who runs next week) to step up to the plate and be counted".
Above: Puritan having a pick of grass at Randwick
SPRITELY GIRL RUNS AT BALLARAT
Bel Esprit mare Spritely Girl is knocking on the door after recent placings at Kyneton and Stony Creek. She lines up at Ballarat on Sunday with Dylan Dunn in the saddle.
"I would love to see her get an easy lead in front. She has been attacked in front at her past two starts and she is capable of an upset if they leave her alone".
FUTURE STARS ON SHOW
Our first intake of breakers are done and dusted. The Redoutes Choice and Street Cryfilly worked together and both oozed class and quality.
The Excelebration and Your Song fillies attacked their breaking in with great energy and look like being early running fillies. Both are strong and well put together and they should hit the ground running.
Limited shares are still available in our yearlings - don't miss out!
Above: Street Cry and Redoute's Choice filly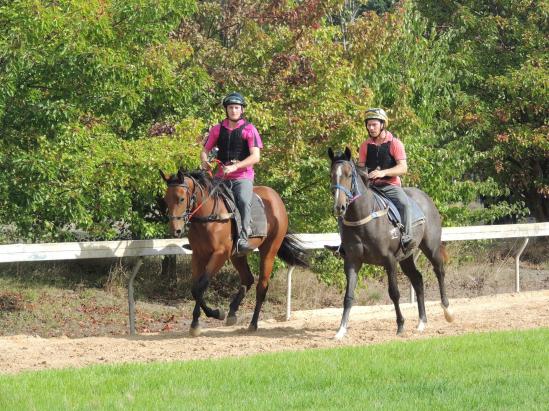 Above: Your Song and Excelebration fillies
BUSY WEEK AHEAD
There will be plenty of runners stepping out for the stable next week. AIRLIE MAGIC(good first up) runs at Pakenham next Thursday along with DANGER CLOSE (who jumped out well on Wednesday).
At Pakenham next Sunday, SISTER CLOSE (pictured) will shoot for three straight whilst unbeaten Pins filly LADY PROVOCATEUR will be looking for a first up win. There are plenty of other runners pencilled in as well so keep an eye out for the JWR silks!
JUMPOUT STARS
Exciting Street Cry filly BACKSTREET LOVER won her jumpout in commanding fashion on Wednesday and looks set for a big campaign. She resumes at Caulfield later in the month. Our REDWOOD filly (pictured) (purchased in New Zealand) jumped out nicely and has a touch of quality about her. We will see her later in the year.