PREVIEW: LADY PROVOCATEUR READY FOR BATTLE
May 28, 2016
The stable's good run continued last weekend with Bianconi mare BEEN SCENE winning again and ZASORCERESS coasting to victory at the Gold Coast to secure a spot in next week's G1 Qld Oaks.
MAGAZINE GAP is showing good middle distance/staying promise. He took on the older horses last night at Pakenham and ran out of his skin going down by the narrowest of margins. He will head to Flemington in a couple of weeks for a 2000m race.
LADY PROVOCATEUR READY FOR BATTLE
Every scar has a story. In the case of LADY PROVOCATEUR, she has a few stories!
She arrived from New Zealand without any hair on her cannon bone thanks to a paddock accident as a weanling.
She ran through a fence and cut her leg pretty badly before the yearling sales and had to be withdrawn from the sale.
With the help of NZ bloodstock agent Mike Rennie, JWR secured the daughter of Pins in a private deal subject to the front leg passing a vet test. She was on a dairy farm in the back blocks of Tuarangga (NZ) so we shipped her up to Matamata to have the leg x-rayed. The x-rays were good and the daughter of Flirting made her way to Oz.
Her woes continues soon after arriving in Australia. She put her back leg through a gate and spent the next 2 months bandaged up.
"She certainly knows how to find trouble. She has scars on just about every leg but thankfully she can gallop" smiled Jason Warren.
"It's a really tough race tomorrow but we have a lot of time for our girl. She is a tough girl and will give it a big shake" said Warren.
Above: Lady Provocateur at the beach
GRIFFIN TO RIDE ZASORCERESS IN OAKS
Gold Coast jockey Daniel Griffin isn't exactly a household name in Victoria but he will be if he claims next weeks Group 1 Qld Oaks on Zabeel filly Zasorceress. To read full article, click here.
http://jasonwarrenracing.com.au/stable/news/id/139...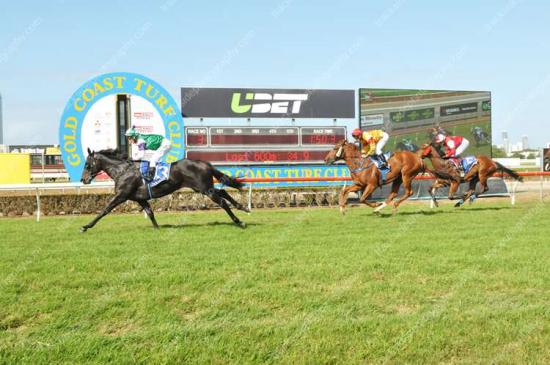 BEEN SCENE - A SUPER VOBIS STAR
BEEN SCENE has been a great advertisement for the Victorian Super Vobis and Vobis Gold scheme. She has won over $35k in bonuses in her 11 start career and has certainly been a great bread and butter horse for her owners. To read full article, click here
Above: A final stride victory for Been Scene and Ben Melham
A PROVEN FORMULAE
First year stallions are always in high demand at the yearling sales and they generally sell at a premium. The proven stallions often get overlooked and their yearlings can fall through for silly prices.
JWR secured a stunning BEL ESPRIT filly at the recent Melbourne Premier Sale for only $55k. "I hate paying overs and this filly was a real bargain. She is a great type of filly. She is paid up for the Vobis scheme and has broken in beautifully..I think she will be the smokey of all our purchases this year".
To secure a share in this filly, just on the website and register your interest or shoot us an email. To read more, click here.
Above: Our Bel Esprit filly broken in and ready to go