THE SECRET BEHIND JWR'S GIRLS
Nov 18, 2015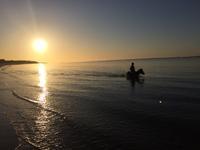 JWR's fillies and mares have been chalking up winners left right and centre over the last 4 months. From our last 16 winners, the JWR girls have accounted for 12 of the 16 wins or 75%.
What is the secret to their success? We asked head trainer Jason Warren.
"There is no doubt that Denistoun Park plays a pivotal role. It can be very stressful for horses working at Flemington, Caulfield or Cranbourne with hundreds of horses buzzing around the track each morning. Here at Denistoun Park, they come out on the track with one other horse and have the whole track to themselves. The whole farm is pretty quiet and relaxed and the girls seems to be happy and hold their condition better which is vital for performance. They live in big open airy boxes surrounded by trees and lawns which is a fantastic environment for any horse especially fizzy fillies and mares " said Warren.
"The beach at Balnarring can't be underestimated either. We are down at Balnarring most mornings and the girls just thrive. It keeps them stimulated and fresh and it's a big part of our success" explained Warren.
Above: Unlawful and Risque Business enjoy a splash with the Dolphins
Above: Orvassa (left) works along with Jake Noonan aboard
Above: US Ranger filly Antianara enjoys her breakfast feed
Above: Hipster Girl enjoying a pick of grass